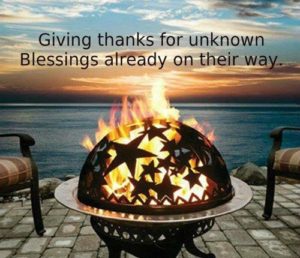 "Giving thanks for unknown blessings already on their way"???
I must admit when I first read this quote, I felt a rather child-like excitement; something akin to anticipating the arrival of Santa's reindeer on the roof.  It felt good to believe something magical was in the wind.
But then I felt a bit uneasy.  Life's challenges challenge magic and magical thinking.  The reality that life is not always fair, wrongs are not always righted, and the stories don't always end happily doesn't leave much room for magic.
As I studied the quote more carefully, however, I began to feel more hopeful because . . .
. . . I realized that most of the blessings that are on their way – known or unknown – are a result of what has come before.  Simply put, blessings anticipated in the future are a result of the principle of Cause and Effect.  The blessings that are moving into present time are a result of past choices and changes – anticipated blessings find their origin in the choices and changes of the now.
This is an understanding far removed from magical thinking.  If I really know that the choices and changes I am making today are impacting my future in all ways always, then how I live in this present moment becomes paramount.  Being thankful that I am making my best right choices now – and celebrating those best right choices – is to know that I will receive known and unknown blessings in the future, as a result of my current best right choices.
As I set aside pretending and magic thinking (such as denial, projection, avoidance, blaming, etc.), and as I align my choices with the true laws of life – physically, spiritually, mentally, financially, and relationally – this allows me to relax, focus, breathe a little easier, embrace responsibility, live from a position of cause, and exercise deliberate choice.  It frees me from fear and opens my heart to live in a state of gratitude, receiving all that is good in my life, and anticipating more goodness to come.  It is to know that my best right choices today allow me to live with hope and to give thanks for unknown blessings already on the way.