I was rejected at birth by my father.
This message is –
on the Dedication page of my book, "FREED from Stuck!".
It speaks for itself.
I never knew my birth father. Born in the fifties "out of wedlock", I was a shame to him and to my birth mother.
In loving contrast, John William Hayes, the man who adopted me at six months, when I had only 3 curly, red hairs, cherished me as his own.  I adored him.  He was thrilled to be my father.
Today I celebrate his profound influence on my life.  I miss you, Daddy.  I trust I've "done you proud!".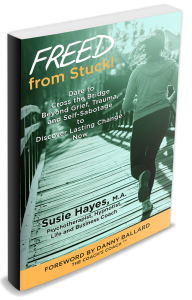 I