FREED FROM STUCK!
Tuesday, May 15, 2018 
6:30-8:30 p.m.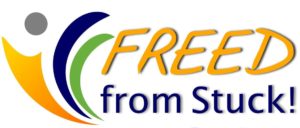 GUEST SPEAKER – Susie Hayes, MA, CCHT, CST, CNLP
You've tried everything to get yourself, your business, or your clients unstuck.
From this presentation, you will begin to understand how to better identify what's really making you stuck, and the steps you need to take to move from Stuck to FREED from Stuck!
Mastering the F.R.E.E.D. Method, you will be able to:
identify the deeper origin(s) of unresolved "resistance"
set a stronger focal point to reach success
deal with obstacles such as trauma, loss, and grief that are often unidentified and unresolved in the change process
successfully move beyond an attained goal to sustained maintenance or expansion
develop a supportive and effective accountability structure to cross the bridge from Stuck to be FREED from Stuck!
A Denver native, with over 25 years in private practice as a psychotherapist, clinical hypnotherapist, sex therapist, life and business coach, speaker, and author, Susie brings to you practical insight, compassion, wisdom, and encouragement to move your life from Stuck to FREED from Stuck!
______________
Starting at 6:30 pm, enjoy 30 minutes to mingle, grab a snack, and enjoy a beverage. At 7:00, you'll hear briefly from of our sponsors. Then our special guest speaker will teach, motivate, and provide a wellness-inspired topic.  Time then for Q & A, discussion, and special announcements, followed by more opportunities for fun and connection.
Annual Memberships to join our community for significant savings are available. Table sponsorships are also available.  Please call Wayne for more information at 303-995-9246.
Your investment includes one beverage, unlimited appetizers, a value-packed presentation, on-going fun, and networking with quality, kindred spirits.
$20- Early Bird Sign Up
$25 – At the Door
Register here now.
The first 10 to register receive an autographed copy of Susie's book – FREED from Stuck!